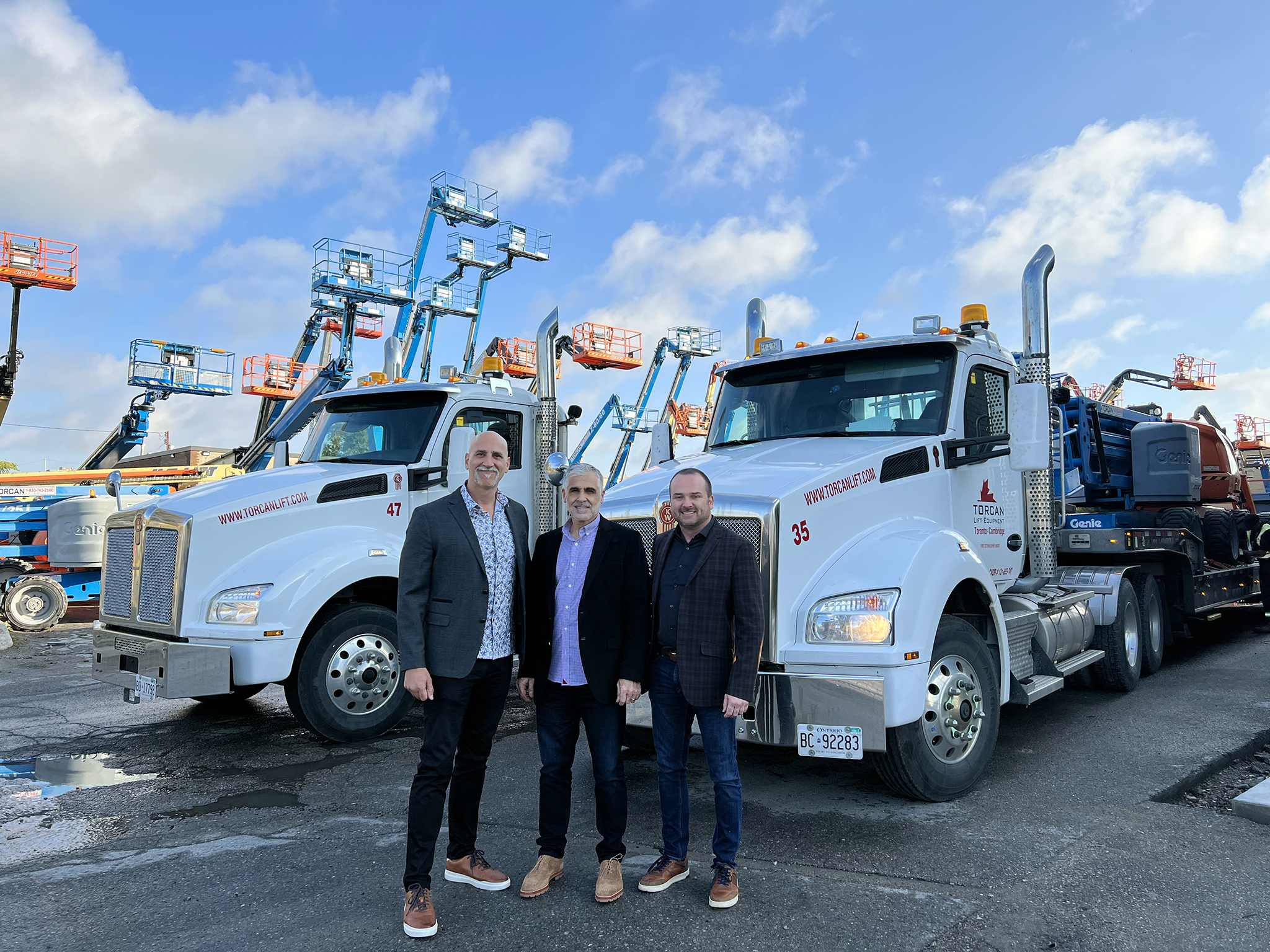 LOU-TEC, Quebec's leading rental company for heavy machinery, tools and specialized equipment, is pleased to announce its partnership with Torcan Lift Equipment, a company that has made a name for itself in the sales and rental of elevation equipment in Ontario. For 24 years, Torcan Lift Equipment has been supplying its customers with quality elevation and handling equipment in Ontario.
The combined resources of LOU-TEC and Torcan Lift Equipment will further accelerate their long-term growth plans. Both companies will gain access to more equipment and capital, thereby multiplying opportunities to pursue their ambitious growth plans. Torcan Lift Equipment has enjoyed strong growth in recent years. With a team of over 70 employees and a fleet of more than 2,400 pieces of elevation equipment, it offers its customers rental, sales and maintenance services for lifting equipment, as well as a full range of parts and industry-leading training. "We are delighted to welcome the Torcan Lift Equipment team to the LOU-TEC family. This transaction is in line with LOU-TEC's development plan, as it will enable LOU-TEC to establish a significant presence in Ontario and expand our existing business activities in that province," said Jean-Marc Dallaire, President and CEO of LOU-TEC.
Torcan Lift Equipment is renowned for its commitment to customers and its constant focus on improving service, as well as for the quality of its fleet. The combination of LOU-TEC and Torcan Lift Equipment will give customers of both companies access to a wider range of elevation equipment and a greater number of service locations. LOU-TEC and  Torcan Lift Equipment will continue to operate as usual, retaining their respective names and brand images. The head offices of both companies will remain in their current locations. This transaction is being carried out with the full support of  Torcan Lift Equipment's current management and employees, who will retain their roles and ensure uninterrupted service. The principal shareholders of Torcan Lift Equipment become shareholders of LOU-TEC. Mr. Joe Picao, President of Torcan Lift Equipment, remains in his position. For Mr. Picao: "This is a great opportunity to develop a strong relationship with the LOU-TEC team. Together, we'll be able to offer an impressive fleet of equipment, cover a larger territory and respond effectively to the growing needs on construction sites."
LOU-TEC and Torcan Lift Equipment can count on the support of their financial partners, Sagard Private Equity Canada, Walter Capital Partners, Investissement Québec, BDC Capital and the Fonds de solidarité FTQ, to support their growth and development projects, particularly in terms of technology and expansion into new territories. LOU-TEC and Torcan Lift Equipment remain on the lookout for opportunities to realize their vision of becoming major players in the equipment rental industry across the country.